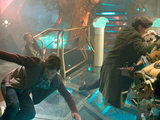 'Let's Kill Hitler', Matt Smith's "favourite episode to date", achieved an average of 6.23m (28.7%) at 7.15pm. Doctor Who Confidential then grabbed 468k (2%) for BBC Three between 8pm and 8.45pm.
Saturday's instalment was more popular than June's mid-season finale 'A Good Man Goes To War, which mustered 5.5m at the earlier time of 6.40pm. The BBC was widely criticised earlier this year for showing episodes during the 6pm hour, after audience figures indicated that the sci-fi drama was in decline.
Source
Lets hope a 7.00 timeslot is the shape of things to come, it should mean increased viewers!